Cancellation guarantee & other booking benefits
Cancel or rebook free of charge*
Best price guarantee

Advice given by local holiday experts
Over 1500 verified accommodations
* Depending on the accommodation, valid up to 48 hours, 8, 15 or 31 days prior to arrival until 09/30/2022 - More details/exceptions
Cancellation guarantee
& other booking benefits
Cancel or rebook free of charge*
Best price guarantee
Advice given by local holiday experts
Over 1500 verified accommodations
* Depending on the accommodation, valid up to 48 hours, 8, 15 or 31 days prior to arrival until 09/30/2022 - More details/exceptions
The Ötztal Alps lie at your feet
Two things are an absolute must in your luggage for a Tirolean hiking holiday in Ötztal: sturdy hiking boots and the right mood to explore nature. Endless 1600 km of trails, routes, paths and treks are waiting to be discovered and will surprise you with new panoramic views at every turn. Families, leisurely hikers, ambitious peak conquerors and perennial long-distance hikers head towards their personal "Hurray, I made it!" moment in the valley of 250 peaks higher than three thousand meters. Thanks to perfect infrastructures it is even more fun. 12 modern summer mountain lifts, guided hiking programs and certified mountain guides, about 100 rustic Alpine huts and pasture inns, special hiking accommodations as well as awarded hiking and mountaineering villages leave nothing to be desired during an active summer holiday in Ötztal.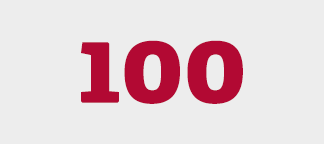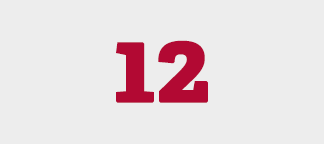 10 rules of conduct for visitors to Alpine Pastures
For safe coexistence on Alpine pastures and meadows
The Alpine pasturelands and mountain meadows within Ötztal are not just popular excursion destinations, they are also pristine nature landscapes and regional economic areas. We owe this to the deeply rooted farmers who cultivate this unique cultural landscape with much effort and sweat by preserving centuries-old traditions, such as the summery cattle drives to the Alpine pastures. To ensure that hikers and animals on the Alpine meadows and pasturelands feel safe and comfortable also in the future, this video shows 10 general rules of conduct if you meet grazing cattle on the mountain pastures.
Quaint huts on Alpine pasturelands
A sunset at Brunnenkogelhaus, towering high above Sölden, creates memories that will stay with you forever. On the opposite side of the valley glacier-topped peaks in the foothills of Wildspitze summit are bathed in red light in the early morning. Experience the very first sunrays of the day and feel their warmth on your face. Maybe breakfast is served on the terrace? One of the undisputed highlights is a splendid hiking tour to Hochstubaihütte at 3174 meters above sea level: a well maintained hiking trail – built in times long past - takes mountain fans from the edge of the forest up to the eternal ice, leading through varied types of Alpine vegetation. Descending on a narrow footpath past huge rock slabs you circle marvelous lake Seekarsee.Less experienced hikers are recommended to head for an easier hike from the village of Gries up to Amberger Hütte. The landscapes surrounding Sulztalferner glacier can be admired during a rest stop at quaint Sulztalalm mountain inn, famous for its legendary "Kaiserschmarrn" shredded pancake or the mouth-watering blueberry omelets.
Alpine Glow
Alpine glow on your doorstep
All those who follow the call of the mountains in the morning, can make it in time to witness the awe-inspiring sunset in the upper Ötztal Valley. Glacier fields covered in white during the day are colored in red when the last sunrays touch them. The Ötztal is easily accessible by car via A12 Inntal Autobahn (exit Ötztal) or Garmisch-Mittenwald-Seefeld or Garmisch-Fernpass-Imst. Trains stop in Ötztal Bahnhof. The nearest airport is in Innsbruck from where the convenient Ötztal Shuttle takes you to the hotel's doorstep.
Ötztal Water Strider Trails
Water Strider Trails, Stuiben Falls, Aqua Dome
The best way to follow the tracks of the "white gold" are the marvelous Water Strider Trails, a network of themed walking routes giving an insight into the wet element in all its facets: frozen water of the eternal ice, rushing mountain brooks and waterfalls cascading down hundreds of meters, silent high Alpine lakes or healing spa waters coming from deep inside the earth. The breathtaking Water Strider Trails are perfectly signposted and also suitable for less experienced walkers. 2 out of 6 theme hiking routes have been awarded "Premium Trails" by the German Hiking Institute.
more details on Ötztal's Water Strider Trails

The splendid Stuiben Falls – Tirol's biggest waterfall – feature a total falling height of 159 meters. A wonderful trail along the waterfall takes passionate walkers to the nearby via ferrata towering high above the rushing mountain waters. From five panoramic platforms hikers can watch this nature spectacle close-by. Real dare devils should not miss an exciting river rafting tour on the Ötztaler Ache brook, across the Imster Schlucht gorge or on the river Inn. Trend sports such as rafting, canyoning, kayaking or canoeing are scheduled here!

The mighty and healing power of water can be experienced at the Aqua Dome, Längenfeld's Spa Center offering plenty of water fun and healing spas for the whole family. Passionate swimmers or fishing fans are strongly recommended to head for picturesque Piburger See near Oetz, one of Tirol's warmest swimming lakes and a real natural gem.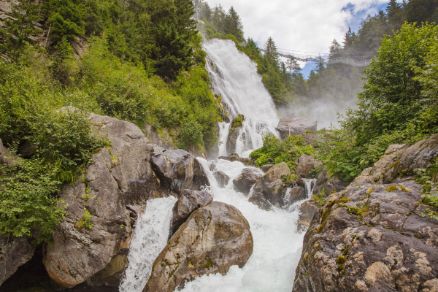 White waters, silent lakes
It's easy to be spellbound by Wildspitze peak and the 250 giants made of rock and ice beyond 3000 meters above sea level. But they also make a wonderful backdrop for myriad walks and pleasant hikes at a more leisurely pace. The Ötztal valley boasts unique natural landscapes, ranging from dense forests and colorful Alpine meadows to lush green pasturelands and ancient rockslide areas. What's more, the wet element is omnipresent here – it is not without reason why Ötztal is called the "valley of 1000 springs". Discover water in all its facets: snow, eternal glacier ice, thirst-quenching spring water and rushing Alpine brooks coming down to the valley. In Umhausen you find a range of marvelous "Waalweg" water theme trails and a stunning waterfall. Crystal clear mountain lakes are spread all over the valley's high Alpine areas.
Hikers taking a rest stop at Hauerseehütte, nestling in the foothills of Luibiskogel summit, feast their eyes on picturesque lake Hauersee with its blazing blue water in the summer months, changing the color to turquoise at the beginning of autumn. A perfect place to indulge in the dreamlike Alpine scenery, a real place of energetic power and strength. As soon as you have found your favorite spot of the day you better get ready for the next highlight: exploring the Ötztal mountains means discovering gorgeous landscapes and unique highlights in a row.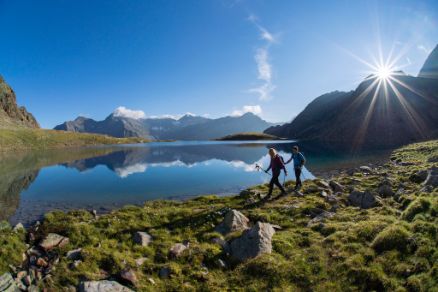 Ötztal. Autumn at its best.
Nature slowly turns into the most beautiful colors, ranging from deep red and golden yellow to dark brown. The colorful season boasts myriad activities. An autumn holiday in Ötztal attracts guests with very special highlights. The autumnally colored valley is waiting for you - no matter if you are looking for mountain conquests, time to relax, adrenaline boosts, family time or cycling and mountain biking.
In the autumn months scenic Ötztal opens up all the varied facets of walking and hiking. Comfortable, lift-assisted hiking at 3000 meters above sea level or high Alpine tours incl. summit climbs. Leisurely hikes to rustic mountain huts and idyllic Alpine lakes attracts nature lovers just like ambitious multi-day tours to magnificent peaks higher than three thousand meters. If you would like to reach the top in a less sporty way you can simply use the mountain lifts: 1 uphill / return lift ride per day free of charge for Ötztal Inside Summer Card holders. Our 1800 km network of walking, hiking and mountain trails has definitely the right autumn hike for you. Additionally, 100 huts and Alpine pastures provide for your physical well-being by spoiling you with culinary treats.