Mountains, waters & action included
The family-friendly Oetz holiday region proudly presents WIDI's super groovy summer program, containing a truly varied blend of mountains, waters, action and recreation. Children aged three and over enjoy nature with all their senses, professionally looked after from Monday to Friday. They learn about Wendelin Water Flea, romp around on a Wilderness Day, participate in Pirate Rafting or bake hearty bread at the Mill in Piburg. The summer program is even free of charge for all young guests staying at a WIDI partner accommodation.
31.05. – 22.10.2021
Child activity program: Monday - Friday
Full-day & half-day child supervision
Our expert team: Stefanie & Melanie
every Monday
TASTER RIDING
The bus takes us to Almhof Mareil where three friendly Icelandic horses await us. We take turns and explore Alpine meadows on the back of a horse. Of course, there is also time to play on the mountain pasture!
every Tuesday
HONEY ADVENTURES (Family day)
In the morning we walk 3 km to Habichen, where we meet the beekeepers Helmut & Agnes who will show us a real beehive. Bees are particularly hard-working little animals and are also very important for our environment.
Please bring long trousers and closed shoes on this day! The children also get a beekeeper jacket and gloves when they take a look at the beehive.
WIDIs Tip
Tuesday
LANTERN WALK
Doing crafts together with all kids, followed by an easy guided lantern walk to Lake Habicher See!
Time required: ~ 2 h | Meet at: 7:30 pm
Fee: adults € 7.00 | children € 5.00
Free for guests staying at Nature Park
and Ötztal Inside Summer Card
partner lodgings!
Booking and more details available at all Ötztal Tourismus Information Offices.
every Wednesday
KASIMIR THE HERB HERO
Kasimir the herb hero lives on a farm and knows everything about herbs. How do I touch nettles without burning my hands, how do I build a tricky tower of herbs, how does a daisy taste?
We walk through the forest and across meadows where we look for varied herbs. Afterwards we process them into pralines in our herb kitchen. Are you curious? Then join us!
| | |
| --- | --- |
| | WIDIs kids program from 9.00 am to 4.00 pm is included for guest children from WIDIs partner accommodations |
WIDIs Tip Wednesday
WIDIs HIKING THEATER IN HOCHOETZ
07.07. – 18.08.2021 | 2:00 pm (only in good weather) Free of charge Suitable for children from 3 years;
every Thursday
PUZZLE JOURNEY
01.07. – 02.09.2021
(During this period, the puzzle journey is carried out by an expert of the Tower Museum, outside this period a child expert team takes care and supervises the program)
Minimum number: 4 children

Already in the morning we go on an exciting journey into the past! A riddle awaits us. Equipped with our magic swords, we explore mysterious rooms and creaky wooden stairs.

Will we find the solution?
After this exciting morning we spend the afternoon playing and doing crafts. The forest provides enough shade and, at the same time, offers a huge range of play options!
every Friday
MAGIC MILL
When: 02.07. – 27.08.2021
Magic is in the air! Today we set out for the Mill in Piburg owned by Max the miller. We listen to mill fairytales. Afterwards we bake our own bread together with all kids.
Minimum number: 4 children
(Outside the specified period there is a great alternative program without bread baking)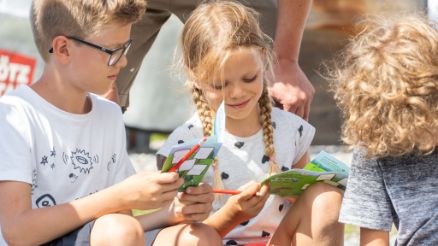 Advcance booking
By 6:00 pm the day before at the latest: "WIDIs Hotline" T + 43 (0) 664 6547709
Maximum number: 20 children
Age groups
Week program schedules and hiking tours depend on the age of the kids. Suitable for children from 4 to 10 years.
Meeting point & start
Monday to Friday
We meet in WIDIs Summer Nest at the Oetz adventure pool from 9:00 am and start our program exactly at 9:30 am.
Full-day child care: 9:00 am – 4:00 pm
Half-day child care: 9:00 am – 12:30 pm or 12:30 pm – 4:00 pm
Available only if the kids are brought/picked up by their parents!
Please bring
Sturdy footwear, all-weather clothes, sunscreen. All kids bring their own rucksack with enough food and drink. This is important to plan the day in the most flexible way.
Child Care Experts
A certified team of child experts takes care of all children.
Our child care experts speak German and English.